An earlier version of the Scrum Guide said: "Scrum is lightweight, simple to understand, and difficult to master." This is absolutely true! It's amazing how something so simple as scrum can be so challenging to do and do well. It's difficult because it requires empowered, self-organizing people to work together on common goals for the benefit of customers. For teams to do this well requires both professional agile training and coaching.
Many have asked, looking to save time or money, if a coach could provide the training to their organization as part of the coaching engagement. While possible, it's not recommended.
In this article, we'll discuss the difference between agile training and coaching and why investing in both, separately, helps organizations achieve the maximum benefit.
Agile training
Agile training is "the action of teaching a person a particular skill or type of behavior." Training is about transferring knowledge from a teacher to a student. It involves developing individual skills and improving the ability to perform. The end goal of training is, within a brief time frame, to establish a well-informed student with skills necessary to apply what they've learned.
In introductory scrum training classes, the students gain an in-depth understanding of scrum theory followed by brief, interactive exercises to practice what they learned. Students acquire a common vocabulary and gain an in-depth knowledge of the scrum team-based approach to iterative development. It covers scrum artifacts, events, and roles in detail.
Trainers specialize in training students for success
The Scrum Alliance authorizes scrum trainers with the Certified Scrum Trainer (CST) designation. This ensures consistent training occurs throughout the industry, holding fast to the agile values and principles. The Scrum Alliance screens CSTs, and the requirements for their certification are rigorous.
Training content is continually improved
CSTs also focus on improving their training after every class, making the training sessions much more valuable to the students. From experience, they understand the best way for students to learn agile skills and concepts. Platinum Edge, for example, has trained over 10,000 students. That experience and student feedback help us build even higher quality courses.
Send the right message to your employees
Students who receive training from CSTs qualify for scrum certifications, which are industry-recognized credentials. Coach-trained students do not. Send the right message to your employees that you're committed to their personal growth and careers by enabling them to participate in certification courses.
Agile coaching
Coaches extend training to the real world. Coaching is about enabling personal and organizational accountability for using learnings. As agile coaches work with your organization, they help evolve the instruction gained from the training into hands-on experience.
Experienced, effective coaches inspire, remind, encourage, challenge, lead, support, and follow up. They ask difficult, in-the-moment introspective questions that encourage people to want to be better. While coaches do teach, they prefer to leverage real experiences.
Training focuses on helping students understand a curriculum within a timebox of a few days. Agile coaching is more enduring. Coaches build long-lasting relationships of trust. Good coaches understand that practice does not make perfect; it makes permanent. That's why they enable multiple cycles of repetition (sprint planning, daily scrum, sprint review, sprint retrospective, practiced over and over, again and again). They set the bar high, encouraging everyone to rise up.
There's an interesting one minute video on YouTube about some intimate coaching moments between the Golden State Warriors NBA coach and former player, Steve Kerr, and six-time All-Star, two-time MVP, and three-time NBA Champion, Steph Curry. Steve Kerr's example as a coach is remarkable. During the video, he says to Steph Curry: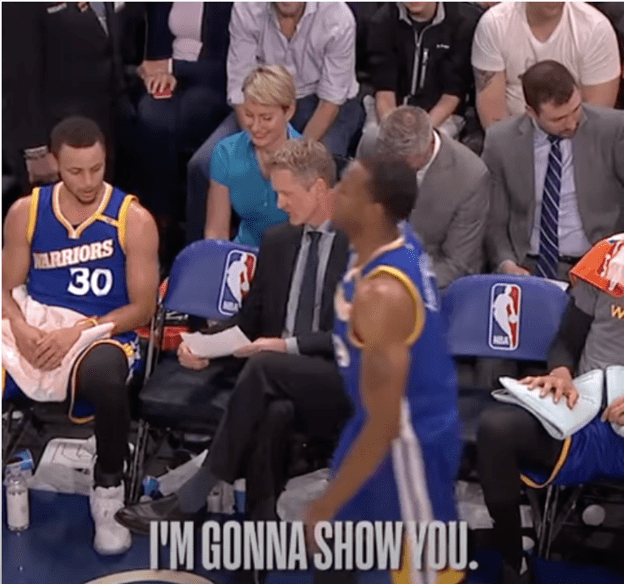 "I'm going to show you (pointing to game metrics) – that's your shooting totals, that's your plus/minus. Alright? It's not always tied together."
"You're doing great stuff out there! The tempo is so different when you're out there. Everything you generate for us is so positive. It shows up here, not always there, but it always shows up here (pointing to game metrics). You're doing great! Carry on, my son."
"I would love to feel whatever you're feeling right now, just once in my life." 
"One of the things I love about you is you're 2 for 11 but have no hesitation in shooting a 60-footer. Nobody in the league does that! You have so much confidence in yourself. It's awesome! Amazing! I wish I had your confidence."
"Pop (Gregg Popovich) was my mentor. He would always tell us in these situations, 'It's supposed to be hard.'"
"I love you."
Steph Curry and his teammates are the product of effective training and coaching. Training helped them excel in their personal ability while coaching elevated the entire team of competent players. Coaching enabled them to win as a team. It took the entire Golden State Warrior organization, trainers, and coaches working together for them to reach their full potential. Training and coaching were separate yet co-dependent. Neither could be successful on their own.
Use both professional training and coaching
An agile coach can train your organization to use scrum. However, the training will miss the benefit of a CST's specialization. It will miss using a refined curriculum built over the years. It will miss out on strengthening careers through recognized industry credentials. Likewise, expecting newly trained team members to apply learning to real-world projects and products can be equally tricky without proper coaching.
Most of our clients use both. One client found the professional training created the momentum needed for them to transform their organization. It laid a strong foundation for success. As the agile coaches engaged with trained team members, the foundation allowed the team to quickly "gel" in creating valuable product increments for customers.
The coach helped the team use every skill learned in training and effectively apply it to real-world situations, with frequent repetition. Enduring, trusting relationships with and between team members and the coach evolved. The trained employees felt renewed enthusiasm because of the investment in their future.
Training and coaching serve different purposes, and both are essential. When teams receive the benefit of credentialed training combined with on the ground coaching, they are set up for success.
Need help? Use our training and transformational services to train and coach your organization.