Certified ScrumMaster (CSM®)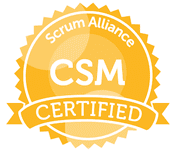 CERTIFIED SCRUMMASTER (CSM®)
This highly interactive certification course provides a comprehensive review of everything scrum. It deep dives into the scrum framework, its origins, and the principles for applying scrum in practical settings.
GO PLATINUM – AND EXPERIENCE WHAT WORLD-CLASS
TRAINING CAN DO.
OUR IMMERSIVE INSTRUCTIONAL TECHNIQUES TEACH YOU SCRUM BY HAVING YOU DO SCRUM
– JUST AS IT IS DONE IN THE REAL WORLD. A SMALL SAMPLING OF WHAT YOU'LL GET:
Certified ScrumMaster training by a Certified Scrum Trainer (CST) with Scrum Alliance, the largest, most established and influential professional membership and certification organization in the Agile community, having certified nearly 1 million practitioners worldwide
A highly-interactive learning experience with examples and exercises that truly enable understanding of scrum, by one of the few consulting firms solely focused on agile transformation for almost 20 years
Post-course assessment and Certified ScrumMaster (CSM) registration for each participant with Scrum Alliance
Sixteen (16) PDUs toward PMP® and PMI-ACP® certifications by a Project Management Institute (PMI®) Registered Education Provider (REP)
A two-year membership for each class participant with Scrum Alliance, which includes the exam fee
All course materials and resources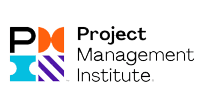 This class is offered in partnership with PMI to support the local PM community.
This highly interactive certification course provides a comprehensive review of everything scrum. It deep dives into the scrum framework, its origins, and the principles for applying scrum in practical settings. This course provides Scrum Alliance Certified ScrumMaster certification, as well as 16 PDUs toward PMI certifications (PMP, PMI-ACP, etc).
You'll gain detailed, hands-on knowledge of scrum, including:
Scrum theory and principles
How to use the scrum framework to support agile development practices
Planning and tracking progress with scrum
Defining shippable functionality
Scrum roles and responsibilities: product owner, scrum master, and developers
Scrum artifacts: product backlogs, sprint backlogs, and product increments
Scrum events: sprints, sprint planning, daily scrum, sprint review, and sprint retrospective
Strategic planning, including product roadmaps and releases, as well as estimating and prioritizing the product backlog
Scaling across teams and geographies
Tips and techniques of helping other stakeholders understand the advantages of scrum
How to transition to scrum
When this course has been completed, attendees will have gained in-depth practical knowledge of Scrum and its benefits.
TOPICS INCLUDED IN THIS COURSE ARE:
Agile foundational concepts

Defined vs. Empirical process control

The Agile Manifesto

The 12 Agile Principles

Scrum concepts

Theory and principles
How the Scrum approach supports agile principles
Planning and tracking with Scrum
Shippable functionality and getting to done

Scrum roles and responsibilities

Product owner
Scrum master
Development team

Scrum artifacts

Product backlog
Sprint backlog
Product increment

Scrum events

Sprint

Sprint planning
Daily scrum
Sprint review
Sprint retrospective

Requirements analysis
Estimating and prioritizing product backlog items
Technical debt
Scaling across multiple teams and multiple geographies
Tips on, techniques for, and benefits of helping clients and management understand the Scrum framework
How to transition to Scrum, with a review of management and team challenges associated with the transition, along with strategies to respond to those challenges
Preparation for the CSM certification test

Over 7,000 Recommendations Can't Be Wrong
Platinum Edge provides one of the best training programs in the industry. We have so much confidence that you will be satisfied with our training that we offer a 100% money-back guarantee. If by the end of the course you are not satisfied, you will receive a full refund of the registration fee.

We have some of the most competitive pricing in the industry. We'll match any published price on identical classes.

A full refund will be provided for any reason prior to one week before the start of the class. If less than one week prior to class, you will be charged $100 if you cancel and do not transfer your registration to a future Platinum Edge class.
Please see our Frequently Asked Questions page for answers to other common questions.
PMI, PMP, PMI-ACP and the PMI Registered Education Provider logo are registered marks of the Project Management Institute, Inc. CSM and its logo are registered trademarks of Scrum Alliance, Inc.