If the scrum master is the team's coach, who coaches the scrum master?
In a fun video from 2011 highlighting the importance of the scrum master, Jeff Sutherland says, as he determinedly points his finger at the camera, "Ian is not only here to enable the process and protect the team. He's also here to facilitate the team and to coach them. He helps the team create the best day possible EVERY DAY."
It's true. The scrum master is essential for product development success.
The role of the scrum master
The scrum master, originating from the title "scrum master of ceremonies" or master of the scrum framework, is the scrum team's peer servant leader. Their primary role is to create the environment for the team's success. As agile and scrum experts, they help everyone understand scrum theory, practices, rules, and values. They coach the team to higher performance and the organization to recognize which of their interactions are helpful and which aren't. The scrum master helps everyone change these interactions to maximize the value of the scrum team.
Scrum masters work with the organization to remove impediments preventing the team from reaching their goals. They remove the impediments tactically and also strategically, consistently addressing root causes. They shield the development team from external interference. The scrum master becomes the daily driver of team velocity increases.
When asked or needed, the scrum master facilitates team interactions, enabling the team to build consensus rapidly. Like aeronautical engineers, they continually evaluate and remove points of friction, preventing the team from reaching their full potential. Scrum masters help build healthy organizations and teams.
If a scrum master focuses on supporting their team to reach its full potential, who helps a scrum master reach theirs? In this article, we'll discuss several resources and relationships available to a scrum master pursuing excellence.
The agile coach or scrum mentor
The first relationship available to scrum masters is the agile coach (also known as the scrum mentor). Both internal and external (or professional) agile coaches generally have a significant amount of experience as a scrum master from which the scrum master can draw.
Agile coaches initially mentor by sharing their insight and experience as well as modeling agile practices. Once the scrum master is comfortable, the coach will move into a "back seat" coaching role, allowing the scrum master to find their own way. The coach provides a nearby safety net. Agile coaches ask tough, revealing questions to help scrum masters expand their capability and experience. They can also lay out an advanced educational course, including books, articles, and videos.
An added benefit of consulting with an external coach or scrum mentor is that they can remain independent and unbiased. This helps the scrum master to have a more holistic, emotionally disconnected perspective.
Training for scrum masters
Scrum masters who want to improve pursue their own personal development with training. Classes vary from introductory to advanced. Essential courses for a scrum master are the Certified ScrumMaster (CSM) and Advanced – Certified ScrumMaster (A-CSM).
Advanced certificates are also available for Certified Scrum Professional – ScrumMaster (CSP-SM) and the Certified Team Coach (CTC). As they take classes and earn certifications, scrum masters learn fundamentals and practices for mastering scrum abilities. These courses are taught by a Certified Scrum Trainer (CST), who also has many years of teaching and coaching experience, essential for scrum masters.
Organizational leadership
Third, the relationship with agile organizational leaders can be a scrum master resource. With many years of servant leadership expertise, agile leaders can effectively provide insightful guidance to develop scrum masters. From building team member capability to resolving impediments, the agile leader's experience is invaluable. Scrum masters benefit from the leader's expertise and relationships as they remove impediments under the leader's direction.
As impediments arise, watchful leaders are quick to consult with the scrum master on possible resolutions from their experience. Leaders make sprint review attendance a priority. Leaders asking, "How can I help?" set an excellent example that permeates throughout the organization and reinforces the scrum master's message.
Agile leaders understand that experience is the best teacher, and that scrum master capability builds through experience. Scrum masters learn for themselves to shield and remove impediments growing their ability along the way.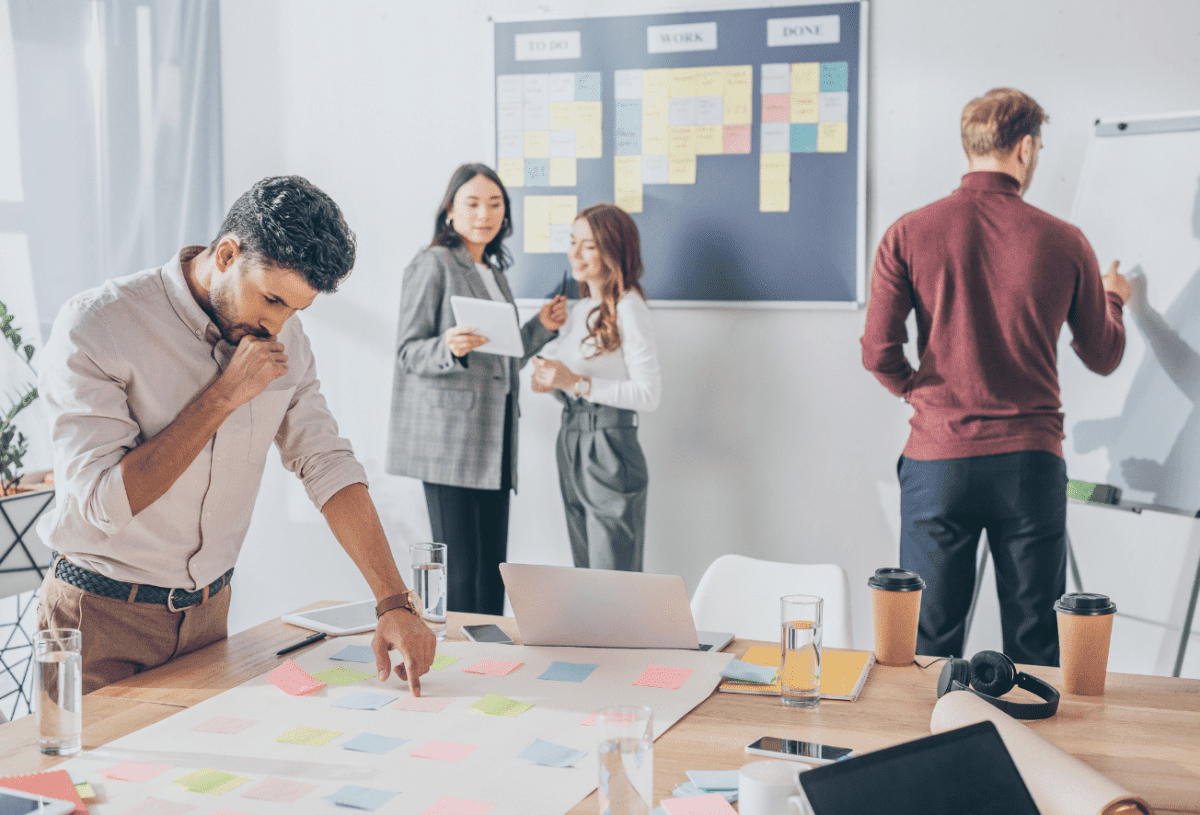 The scrum master community of practice
Next is the scrum master community of practice or guild. A community of practice is a group of people who share a concern or a passion and learn how to do it better with regular interaction. Communities of practice can be both internal and external.
Internal communities of practice help scrum master and those who want to become one learn from each other techniques and approaches that deliver results. They can help scrum masters better align in approaching the work, bringing consistency to the entire organization and enabling individual team autonomy where appropriate.
Some communities of practice create book clubs and focus together on learning from a specific book. Others review an ever-changing backlog of topics to assist all community members in improving their abilities. Facilitated using agile techniques, such as Lean Coffee, participants share what they're finding helpful for their own teams.
External communities of practice are also useful for collaborating with other agilists in different organizations and industries. You can gain a wealth of knowledge working to show others opportunities they could apply to their own organizations or situations. Networking relationships with people outside of the organization can bring a fresh, valuable, and again, an unbiased perspective to their own thinking.
Communities of practice empower scrum masters to gather, discuss, and learn from one another. These relationships help them receive the support they need when they need it.
Self-improvement
Finally, one of the most valuable ways for scrum masters to achieve their full potential is through self-study. The scrum master should be continually trying to be two steps ahead of their team. Learning about automation or resolving team conflicts, team psychology, creating psychologically safe environments, setting and achieving goals, customer service, and more. Hundreds of books, podcasts, videos, agile conferences, and websites are available to help scrum masters to reach their full potential.
Scrum masters can reach their full potential
The scrum master role is essential for building and maintaining a healthy organization and team. In summary, available resources for helping scrum masters reach their full potential are training, coaching and mentoring, organizational leadership, communities of practice, and self-learning.
Two books we highly recommend for scrum masters are Scrum for Dummies and Agile Project Management for Dummies. I keep these books nearby every day for reference. Both are excellent resources for helping scrum masters reach their full potential, which allows their teams and organizations achieve their full potential.
Need advice, coaching, or training? Platinum Edge can deliver. Explore our services for scrum masters today.