Why is business agility training important?
Today's product development work requires flexibility, quality, and a commitment to customer delivery to deliver critical business value. Competitive pressures demand that teams use development methods that enable continuous value delivery and short feedback loops.
Business agility training is crucial for improving team and organizational performance. Many interested in becoming more agile ask what training opportunities would be most beneficial for their organization.
In this post, we'll discuss the various agile training courses available and the recommended target audiences. With this information, organizations can decide which training opportunities are best for them. Successful organizations build healthy scrum teams by pursuing a balanced training strategy across product owners, developers, scrum masters, and organizational leaders.
What business agility training is available?
The following training course descriptions are associated with the Scrum Alliance. The organization is the largest and most influential in the agile community, counting over one million certified practitioners worldwide. Their path enables individuals to obtain scrum certifications, a journey that can take three to over five years.
Except for the Certified Scrum Developer (CSD) course, all courses apply to virtually any industry or domain. The CSD course is specific to the software/IT industry.
Introductory course: Agile Essentials
This course introduces students to the agile values and principles that support common frameworks like scrum. Students find an overview of the core agile principles, the most common agile practices, and how agile approaches are revolutionizing product development in this class. They also explore the fundamental differences between traditional methods of project management and agile product development. It also includes what's necessary to make the transition.
Most organizations find this course helpful for providing time-constrained executives with an overview of business agility. Others with previous scrum training use the class as a refresher, helping everyone to get back on the same page of their agile transformation strategy.
Agile Essentials is available upon request in two-, four-, and eight-hour increments.
Audience:
Executive, business, and IT management.
Agile Transition Team members.
Any professional who needs to understand agile methods but won't be directly on a scrum team (internal customers, middle management, etc.).
Anyone who attended another course and needs a refresher
Product ownership
Certified Scrum Product Owner (CSPO)
The CSPO two-day course (or four half-days if done virtually) provides an overview of the product owner's accountabilities within a scrum team and an organization. It also reviews working with customers, users, and stakeholders. It explores how the product owner operates from product discovery to delivery and support to maximize business value. Course graduates gain an in-depth practical knowledge of the product owner's responsibilities in agile product development, applied explicitly through the scrum framework.
Organizations find this course helpful for building product management capability. Product owners are essential for aligning on a product vision. They ensure their peer scrum team members focus on building the highest value product increments. As decisive customer representatives, they bridge the gap between the customer, business stakeholders, and the developers. Product owners determine what and when to release to the market and are accountable for the product's return on investment.
Audience:
Product owner candidates and product managers.
Agile Transition Team members.
Project managers interested in sitting for the PMI-ACP exam.
This class is excellent for taking your product ownership to the next level. Students learn about the product owner accountabilities and how they identify and work with their stakeholders, facilitate product discovery, test assumptions, and make sure their team builds the right thing in the right order. This course's length and duration vary depending on the educational provider, but most provide 16 SEUs (Scrum Education Units), which is equivalent to 16 hours of training.
Organizations encourage product owners to take this course to advance their careers and to increase their credibility as product experts. Effective product owners are vital for delivering real business results.
Audience:
Certified scrum product owners with at least one year of product owner experience (within the past five years).
CSP-PO offers a deep dive into Product Strategy. From customer discovery and development to business models and competitive analysis, this class delves into the role of the Product Owner. It teaches them how to launch new teams, work with their stakeholders on planning and forecasting, and collaborate with multiple teams on backlogs. Course length and duration vary depending on the educational provider selected, but most are two-day in-class or 12-month subscription-based.
The value is enabling product owners who can solidify approaches for validating product assumptions, learning advanced interactions with customers and users, and mastering advanced product backlog management. Having a professional on your staff can be a benefit to all your teams.
Audience:
A-CSPOs with at least 24 months of product owner experience (from within the past five years).
This three-day interactive technical certification* course trains participants in product foundation planning, architecture, and design patterns. These learnings allow them to build quality into the product with rapid, short, and frequent feedback loops.
Organizations find this course helpful for developers who want to work together more effectively. Participants learn agile testing strategies, bottom-up software confirmation cycles, DevOps practices, continuous integration/continuous delivery (CI/CD), and automation build practices. They learn how to maintain high levels of product quality and code integrity.
Audience:
Software designers and developers.
Quality assurance testing staff.
IT Leadership, Architecture, DevOps, and IT Security.
*NOTE: This three-day course satisfies the technical track requirements for certification. At least five days of formal training by a certified scrum trainer is required to earn the certification. Most partner this course with a two-day Certified ScrumMaster (CSM) course.
While there is no specific CSP training for developers, candidates can earn a total of 70 SEUs within the past 36 months. These can come from any of the other courses, attending local user groups, and other activities. This diverse educational opportunity helps experienced developers challenge their teams to improve the way they apply scrum and agile principles.
CSPs demonstrate experience, documented training, and proven knowledge in scrum. The certification is unique to developers and distinct from a Certified Scrum Professional-ScrumMaster (CSP-SM) or CSP-PO.
Developers with the CSP designation have over three years of validated experience as a scrum team member. Organizations benefit from this advanced scrum developer experience for their technical team members. This certification exhibits an involvement in the agile community and a dedication to continued learning.
Audience:
CSD with at least three years of scrum team experience (from within the past five years).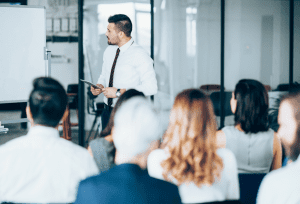 Scrum master
This two-day (or four half-day if virtual) interactive certification course provides an in-depth understanding of the scrum team-based approach to iterative development. The course trains participants in the full range of scrum topics, from basic theory to organizational implementation. That curriculum includes practical applications, accountabilities, scrum artifacts, and scaling. Course graduates gain in-depth practical knowledge of scrum and its benefits.
While focused on developing scrum master capability, organizations find this course advantageous for setting a strong foundation based on agile values and principles. Many organizations start with this course for all team members as the introduction to agile product development. CSM training is the most popular introductory course.
Audience:
Scrum master candidates.
Agile Transition Team members.
Product owners/product managers interested in learning more scrum fundamentals.
Executive, business, and IT management.
Project managers interested in sitting for the PMI-ACP exam.
Software designers and developers.
Quality assurance testing staff.
The A-CSM provides a deeper dive into the role of a scrum master beyond the CSM course. This highly interactive and learner-driven class guides participants to challenge what they think they know. It also expands soft skills in facilitation, consensus-building, and servant leadership. It also explores scrum in contexts beyond IT. Scrum masters will have the opportunity to learn more skills for building high-performing teams.
This course encourages scrum masters to advance their careers, increases scrum master organizational clout, and improves scrum master effectiveness and facilitation skills—all benefits for an organization.
Audience:
Certified scrum masters with at least one year of scrum master experience (within the past five years).
Becoming a professional means you have the experience and education to help others on their path to better agility. Certified scrum professionals urge teams to improve how they apply scrum and agile principles.
With two years of experience as a scrum master, including one year with an advanced scrum master certification, CSP-SMs can be valuable agile coaches and organizational enablers. CSP-SMs effectively support organizational agile behavior development and the expansion of agile principles and values.
Audience:
A-CSM with at least 24 months of scrum master experience (from within the past five years).
Agile leadership
Scrum Alliance describes the CAL course as "designed to help you bring positive change to your organization by helping you embrace the agile leadership model that fits your management style."
"The CAL program consists of three foundational certification courses: CAL Essentials, CAL for Teams, and CAL for Organizations. To master these skills, students take two prerequisite foundational courses, then progress onto CAL II, which features a blend of validated practice, advanced education, and peer-driven workshops."
Organizations use these courses to enable leadership with the skills needed to improve organizational business agility, self-organization, and team empowerment.
Audience:
The CAL program is a unique two-part education and practice-based program to develop agile leadership competence and maturity. It helps people to increase their leadership effectiveness.
"CAL II is an advanced education, validated practice, and peer-based sharing program that consists of learning and practice across three categories (Leadership in an Agile Context, The Agile Organization, and Agile Approaches to Change). The goal of CAL II is to guide leaders in deepening, applying, and sharing their agile leadership learning." (Scrum Alliance)
This advanced course further enables leadership to improve organizational business agility, self-organization, and team empowerment.
Audience:
Guide level certifications
Certifications also exist for pursuing agile coaching or training careers. Those include a Certified Team Coach (CTC), Certified Enterprise Coach (CEC), or Certified Scrum Trainer (CST). Apart from the courses above, specific training courses are not currently available for these certifications. They require more rigor and experience. Requirements are on the Scrum Alliance site.
Companies leverage individuals with these certifications as part of their growing agile practice within their organization. Many professional agile coaches and scrum trainers must hold these certifications.
What business agility training is right for you?
Various excellent business agility training opportunities are available. Agile enthusiasts and leaders are wise to take as many of them as possible to boost business agility. Organizations with a healthy balance of training across the three scrum accountabilities of product owner, developer, and scrum master and organizational leadership are the most effective.
With a professional agile coach's guidance after the training, teams can effectively apply learnings to the real world for maximum business results.
Be sure to check out our business agility training classes today, or contact us for private class options.